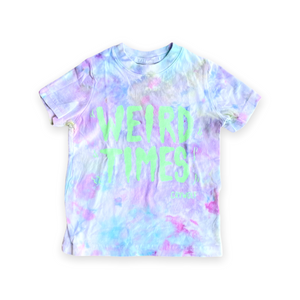 Crywolf
Kids Weird Times Tshirt
Regular price
$23.00
$0.00
Unit price
per
We are living in WEIRD TIMES and what better way to commemorate this new normal.
This is a very limited tie-dyed run of our WEIRD TIMES print, since it's too cold to do any more tie dye, it is our last run of the year! Once they are sold out they will be done!
These tees are 2 x tie dyed and silkscreened, created start to finish by us in our studio.
Each shirt is DIFFERENT! You can see some of the variation possibilities in the photos. Although they all have the same ~ v i b e ~, there will be variation in colour placement due to the nature of hand dyeing - what you get will be random.
100% cotton. We recommend washing separately or with darks only, especially for your first wash, in case of any remaining dye. 
Wash and dry inside-out. Use cold or warm water (not over 178 degrees F) and a mild detergent. Dry on a low/tumble setting or hang to dry. Do not iron. 
---